What Does it Mean to Provide Liquidity?
To be a liquidity provider, you add an equal value of tokens to a liquidity pool which guarantees that other users can trade their tokens. As a liquidity provider, you earn a percentage of the trading fees in proportion to your contribution to the pool while your tokens remain in the pool.
How to Provide Liquidity on Katana?
Below you can find instructions for adding liquidity to a pool, using the AXS/RON pair as an example:
Visit the Katana Pool website.
Connect your Ronin wallet.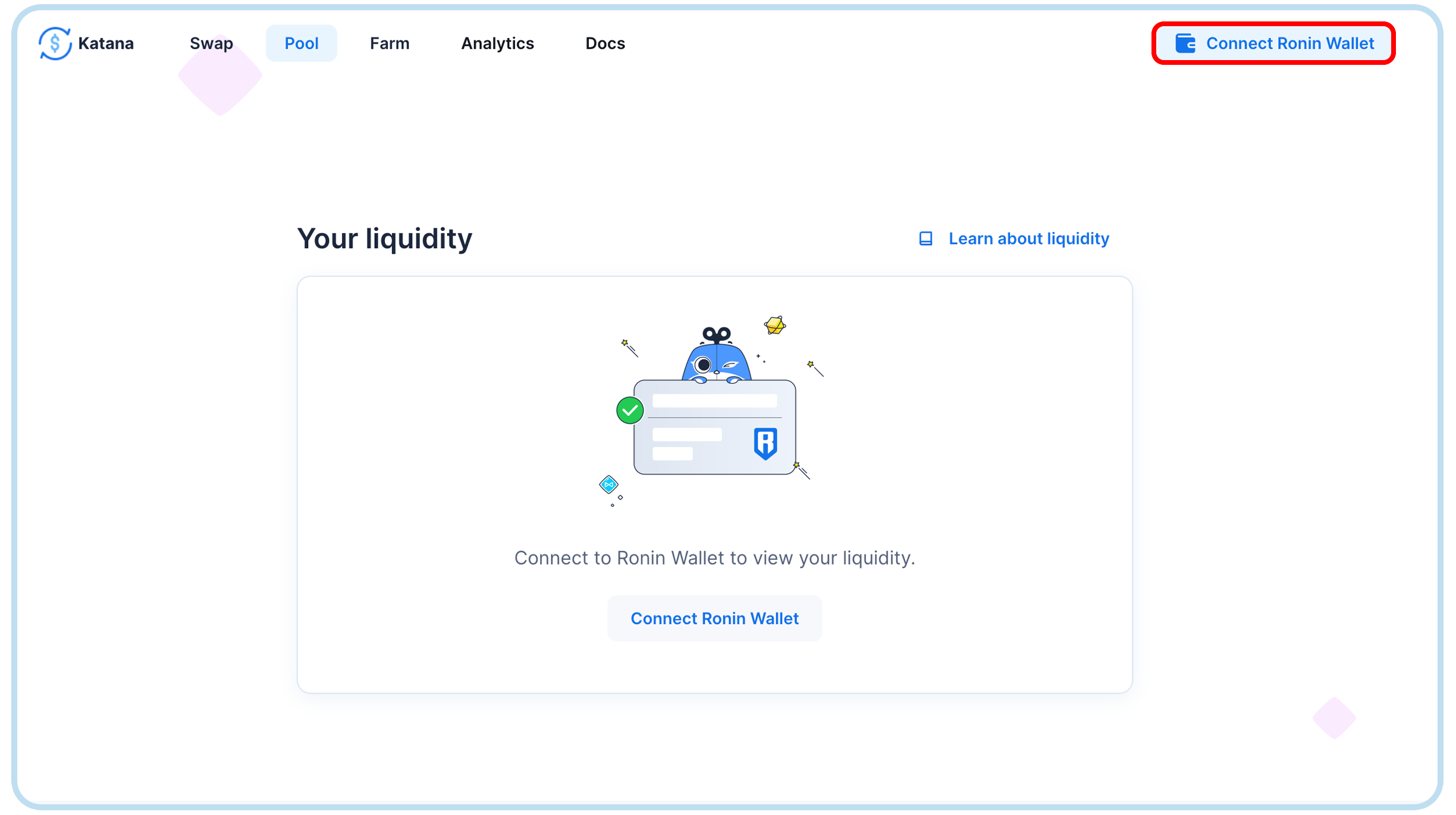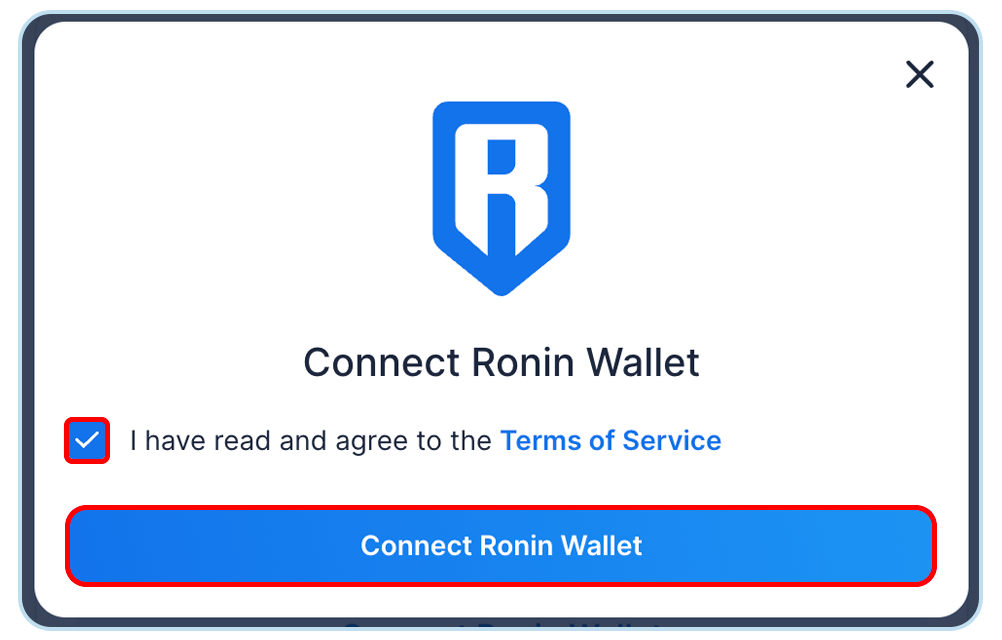 To begin adding liquidity to a liquidity pool, you will need to choose one from the available options. There are four main pools to choose from: WETH/RON, AXS/RON, SLP/RON, and USDC/RON. For the purpose of this guide, we will focus on the AXS/RON pool.
After selecting the AXS/RON pool, you will need to specify the exact amounts of AXS and RON that you want to add to the pool. Keep in mind that the token amount should always be even. For example, if you choose to add 1 AXS to the pool, the corresponding amount of RON will be 12.089 at the exchange rate of 1 AXS = 12.089 RON. Once you have confirmed the amounts, you can click the "Supply" button to proceed.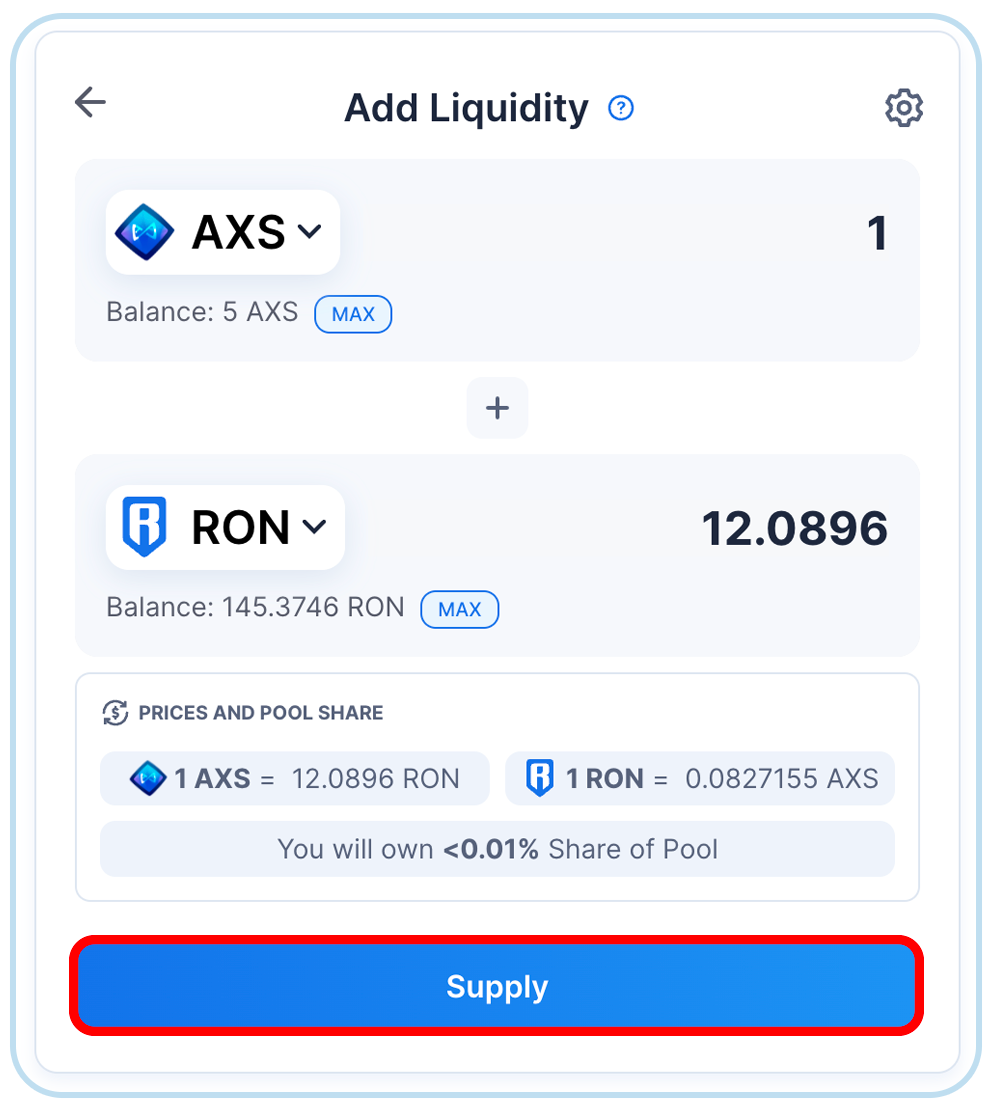 If this is the first time you are supplying a particular token, you may be prompted to authorize the use of the tokens in your wallet. This authorization step is separate from the actual supply operation, and it serves to grant permission for the tokens to be used. After authorizing the tokens, you can proceed with the supply operation.
It is important to note that this authorization step is often confused with the supply operation itself. To verify whether the supply operation has been successfully executed, you can check your wallet in the Block Explorer, where you should see a corresponding transaction. The transaction will look a bit like this for token approvals.
Next, click "Confirm Supply".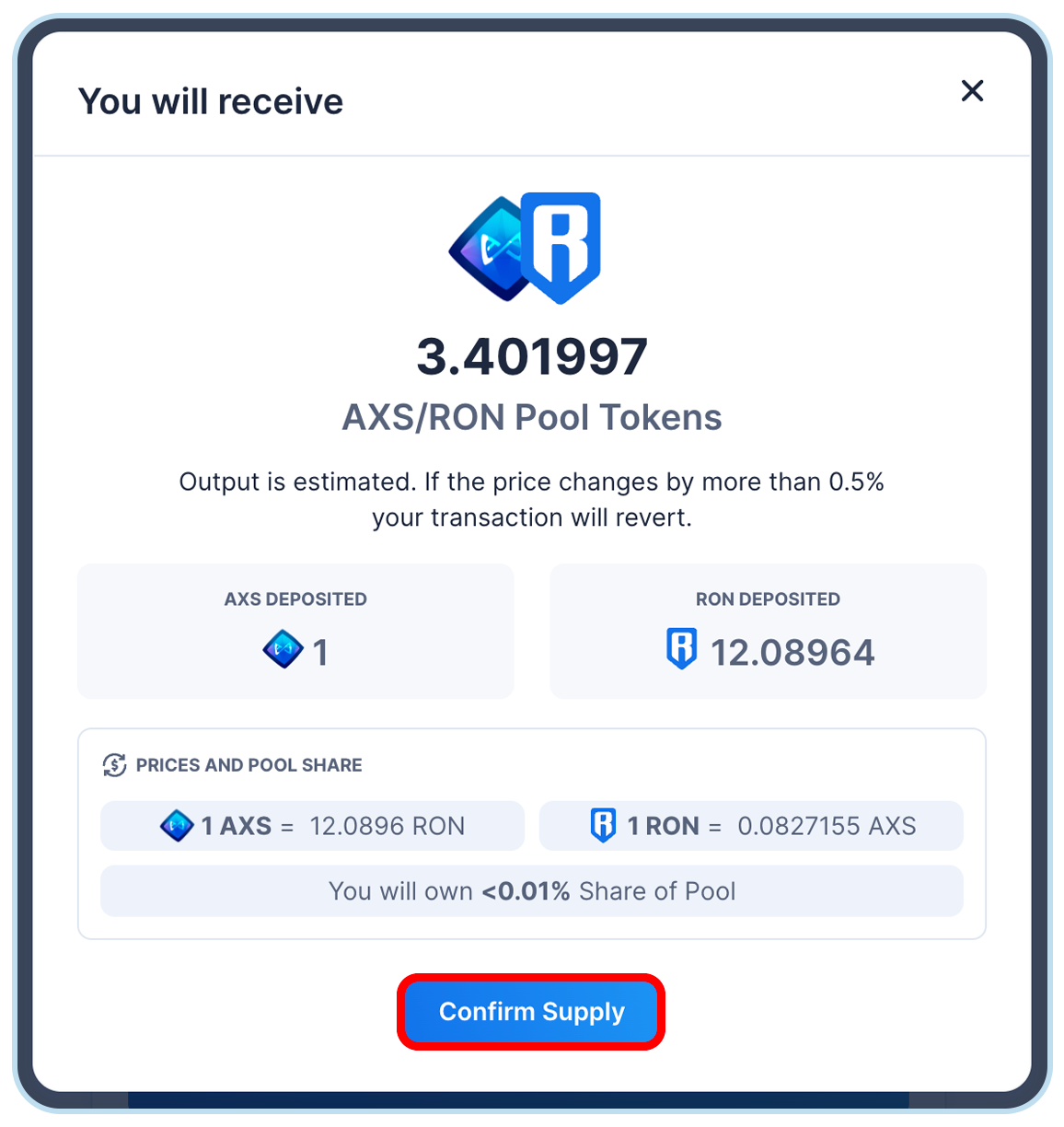 You will be asked to confirm the transaction in your Ronin wallet. The transaction will then be submitted and could take some time to process.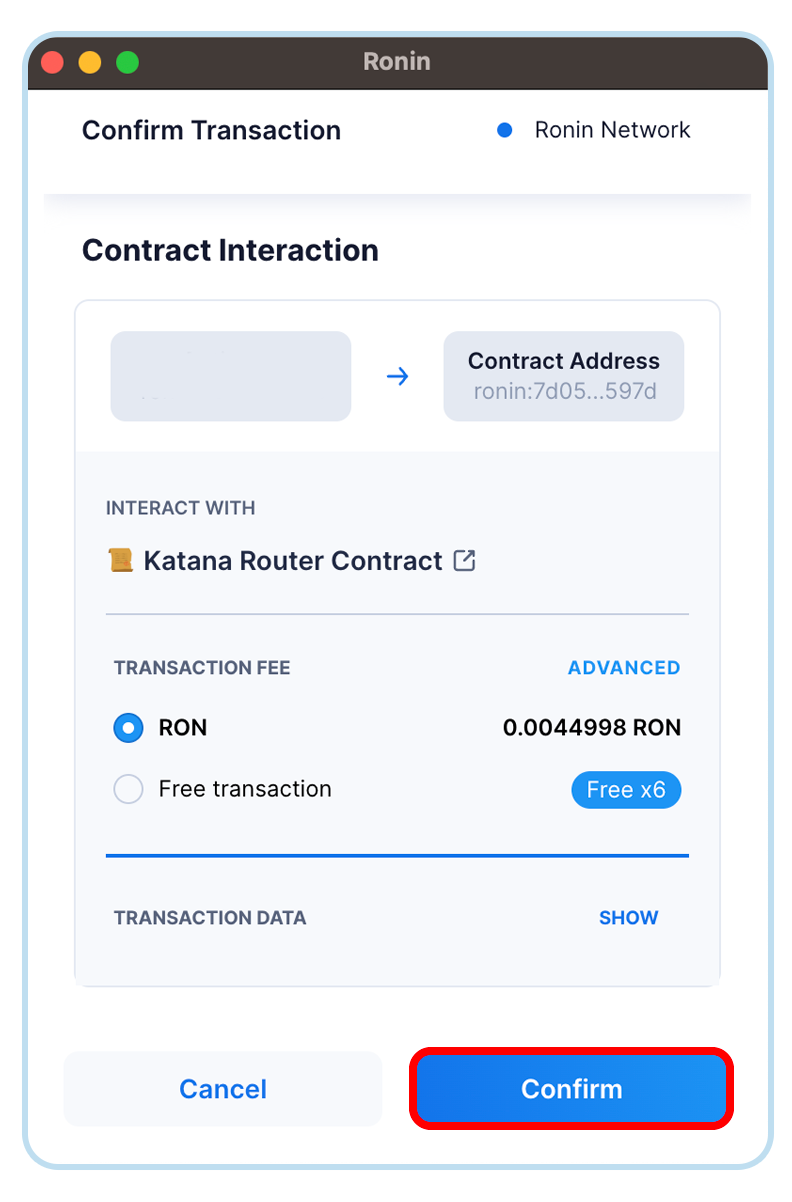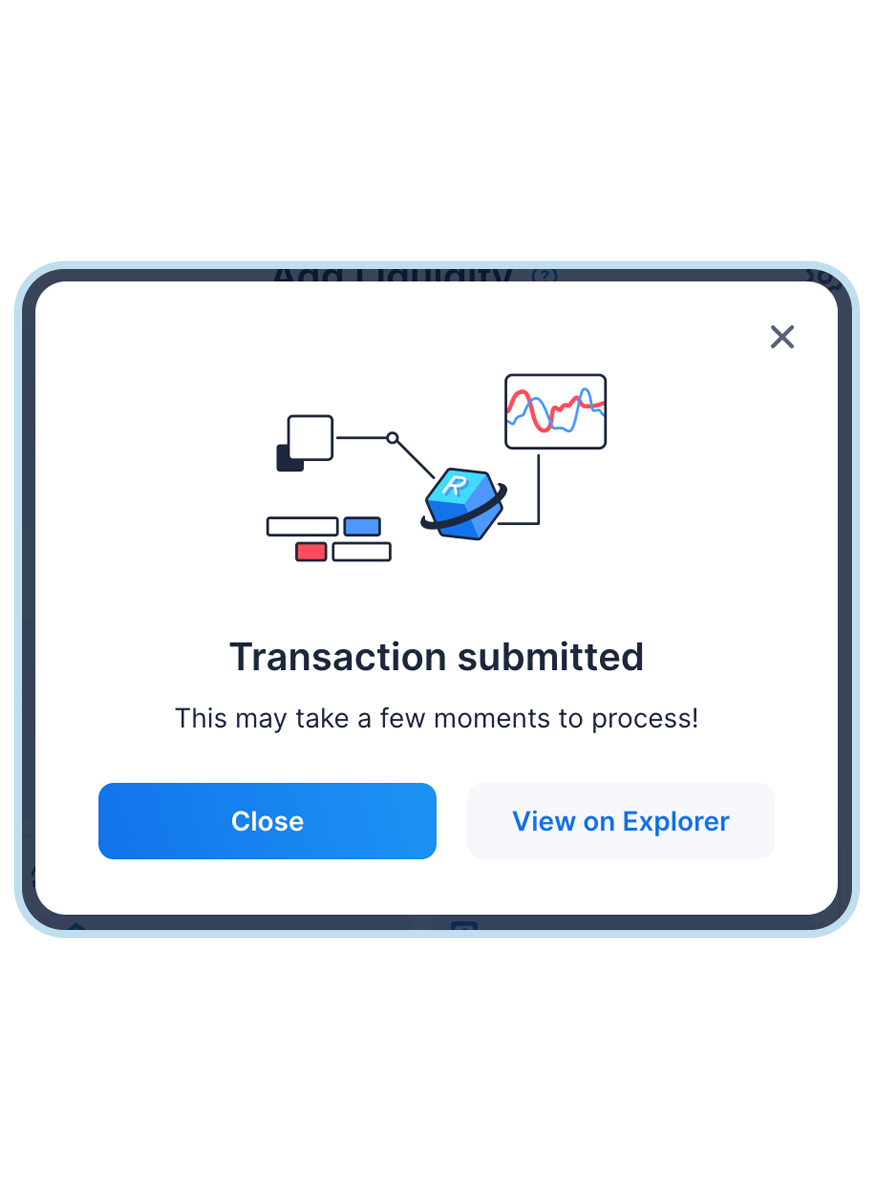 Once the transaction is confirmed, you will now see your liquidity listed on the page. Here, we have 3.401 AXS/RON liquidity pool tokens.