This article explains the different categories and tier your RNS may fall into, and how the price is determined.
Domain Name Categories
There are four categories of domain names in RNS:
Regular names: These unregistered domain names, available on a first-come, first-served basis, come with an annual renewal fee.
Auctioned names (Special Collections and High Value Names): These highly sought-after RNS names, such as adventure.ron and moonshard.ron, are distributed through auctions where the highest bidder wins.
Protected names: Names reserved for official partners. For instance, Sky Mavis ensures that battlebears.ron remains exclusive to the Battle Bears team, safeguarding our communities from malicious actors.
Blacklisted names: Names with negative connotations, sensitive themes, or deceptive potential that aren't available for registration.
Domain Price​
The price of an RNS domain name depends on the following factors:
Renewal fee: A fee charged for the registration duration, in years. This is a fixed fee based on the length of the domain name, applying only to regular names.
Additional fees applied to auctioned domains:

Domain price: Set by the market during the auction. The first participant makes a starting bid, then someone else makes a higher bid, and so on.NOTE: After the auction period, trading [buying or selling] the auctioned domain in the Mavis Market may affect its domain price.
Reservation fee: 15% of the auctioned domain's price. This fee applies only to auctioned names and is charged when you renew the domain name after it expires.
Domain Tiers​
RNS employs domain tiers to indicate the rarity of a domain name, which is determined by the characters that make up the name, and its value, which is determined by market price.
You can quickly see the domain's tier based on its color card, which can be yellow, blue, or green.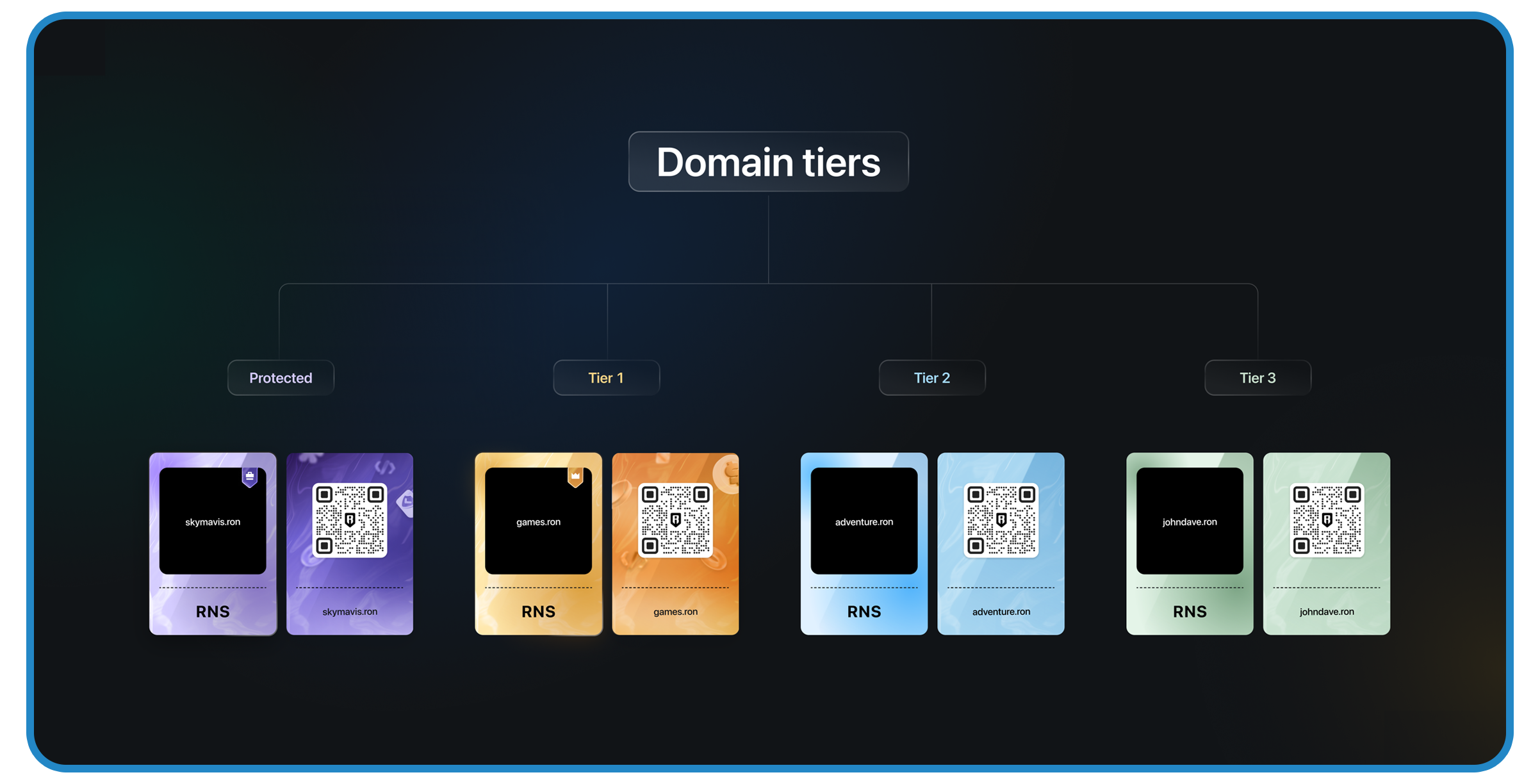 Domain tiers apply to all RNS names except protected names and special names, such as active creators, community members, and selected collectors in the early access RNS.
Protected names also have a color card—Purple—but their prices are set by Sky Mavis.
Each tier typically contains the following groups of domains:
Tier 1

[Gold]

includes:

Three-character names
Auctioned names with tier value of at least $200
Community and creator names

Tier 2

[Blue]

includes:

Four-character names
Auctioned names with tier value between $50 and $200

Tier 3

[Green]

: The remaining RNS names fall into this tier.
To calculate the tier value of an auctioned domain, you add 50% of the current domain price to the renewal price of the domain.
Tier Value = (0.5 x Domain Price) + Renewal Fee
NOTE: There may be cases where the tier level of a domain is outdated/incorrect in dApps/wallet interface, as the metadata is only updated periodically. Please check the tier level of the domain on the RNS site for the most accurate information.