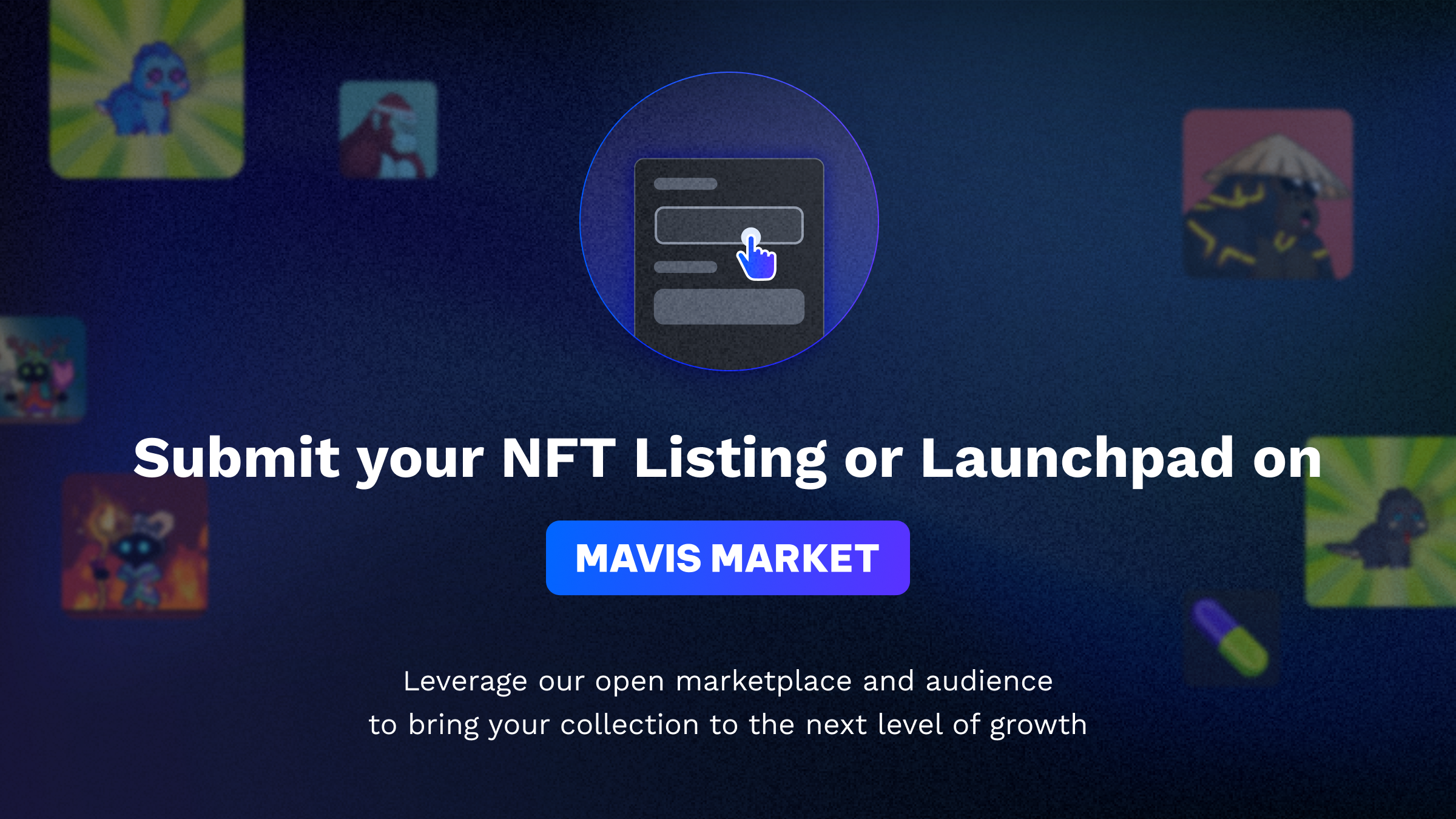 Mavis Market is actively looking for high-quality projects and artworks to launch NFTs on our platform. By listing or joining our NFT launchpad, NFT projects will have the chance to utilize our platform for a journey of growth and innovation. Our team is passionate about any projects that wish to be live on our marketplace.
Interested in featuring your NFT project on our marketplace? Fill out this survey to introduce yourself, your audience, and your NFT collection. We will assess your listing application and contact you if it's approved. If you haven't received a response within 30 days of your submission, it indicates that your project has been added to our waitlist for potential future consideration.
NFT Listing and Launchpad FAQ
What is the difference between listing your collection and joining the launchpad?
Listing your Collection
When you list your collection with us, it means your project's primary sales may have already occurred on other platforms or even joined our launchpad for a primary sale. This may involve minting NFTs and distributing them through methods such as airdrops or rewards via your platform. Alternatively, if your project currently resides on other blockchain networks, migrating it to Ronin provides the path for your NFT collection to flourish on Mavis Market.
Upon listing, your NFT projects will be showcased on our platform, and users can start buying, selling, transferring, or making offers. For example, you can see collections like Pixels Pets and CyberKongz Genkai as two successful instances of projects listed on our marketplace.
Mavis Market Launchpad
Joining our Launchpad, on the other hand, entails harnessing the power of Mavis Market's meticulously designed NFT launchpad. This dynamic platform is tailored to expedite NFT sales and offers versatile support.
Mavis Market Launchpad is a specialized product and service meticulously crafted to empower creators in successfully minting their collections. Presently, we are in the initial stages of accepting a select number of projects.
Nevertheless, our vision is to broaden this opportunity, making it accessible to a wider audience in the near future. Our NFT launchpad, designed to empower NFT projects, provides the ideal avenue to raise funds by selling NFT items. It facilitates two distinctive launchpad mechanics:
First-Come-First-Serve: This method features fixed-price sales complemented by whitelist tier support.
Mystery Box: NFTs are artfully concealed within boxes, with each box containing NFTs of diverse types and pricing. Users purchase these mystery boxes, with their anticipation building as they reveal the hidden treasures within.
What are the criteria for choosing between listing and launchpad?
We have outlined the criteria and principles that guide the acceptance of collections on our platform.
Social Community: Social community size and engagement.
Team Quality: The quality of your project team.
Art Quality: The artistic quality of your work.
Project Quality: The overall quality of your project.
NFT Use Cases: The utility of your NFTs.
Successful Launches on Other NFT Marketplaces: Your track record of successful launches on other NFT marketplaces.
We are currently welcoming NFT projects from all categories, although we at Ronin Network do have a specific preference for gaming NFT projects.
What is the listing process for projects chosen to be on our marketplace?
The technical requirements for NFTs necessitate adherence to the ERC721 - Common or ERC1155 - Common standards.
In addition to these prerequisites, our team conducts comprehensive due diligence and assesses each project individually. Familiarize yourself with our guidelines for listing on our marketplace.
Thank you for choosing Mavis Market as your platform for showcasing and sharing your creative NFT collections.