Trusted Domain Levels
Trusted Domain Levels (TDL) is the trust based system in the Ronin Ecosystem, where there are three different levels of trust depending on the developer's reputation. The purpose of this system is to inform users about the possible dangers of the dApp (any website or software) when using it. Every dApp is marked with a specific level of trust (example below), which is visible to you when you are interacting with your Ronin Wallet and the dApp itself. Every request to sign a transaction with your wallet should be carefully evaluated. Unknown dApps represent a high level of risk and should be treated accordingly. Keep in mind that Sky Mavis cannot protect users scam attempts through such sites as the Ronin Ecosystem allows all dApps to integrate Ronin Wallet in their services. If you find any suspicious dApp, you should reach out to us through our support page immediately and report it. We are able to block such sites from interacting with a user's Ronin Wallet.
Trust Levels:
1. Mavis
Projects that are developed by Sky Mavis or Ronin. Users can feel safe when interacting with these dApps.
Examples:
2. Mavis's Friends
Projects that are Sky Mavis or Ronin Partnership. Although these dApps are trustworthy, Sky Mavis won't guarantee the safety when users are interacting with these dApps.
Examples:
3. Unknown
Projects that are unknown. Users should be very caution when interacting with these dApps.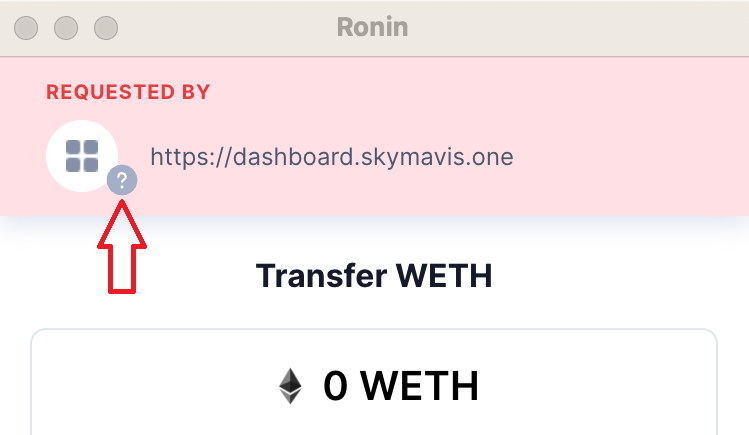 Make sure to read the message first.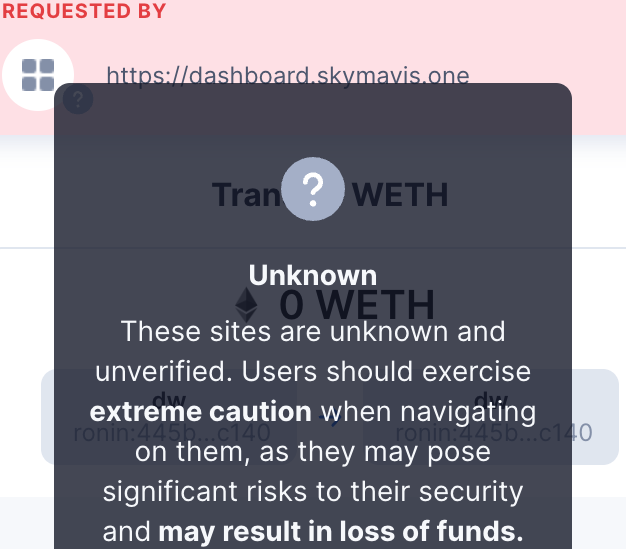 Note: Domains in the pictures are for presentation purposes only.
Possible Risks:
You can accidentally lose your assets if you are not cautious enough. A website can prompt you to:
Submit a transaction to transfer your funds to an attacker's address
Submit an approval transaction that would allow attackers to transfer funds from your wallet
Sell your assets for 0 ETH and to the attacker
Recommendations:
Don't use wallets with a lot of funds if you are in doubt. You can always create a new Ronin Wallet for special transfer purposes only.
Don't sign transactions you are not familiar with.
Use only "Mavis" trust level or "Mavis's Friends" trust level dApps to ensure maximum safety. Remember, NOT all "Unknown" trust level dApps are necessarily malicious or fraudulent!
Verify "Unknown" trust level dApps before you access them. The Axie Discord or Ronin Discord are great places to ask about specific sites you are suspicious about.