Coins.ph, the leading crypto exchange and mobile wallet in the Philippines, has integrated with the Ronin Network. This integration enables Coins.ph users to conveniently deposit their SLP/AXS tokens from their Ronin wallet directly into their Coins.ph wallet. This integration offers enhanced accessibility and ease of use for users, allowing them to easily manage their assets between both platforms.
Please note that: The Ronin integration with Coins.ph only supports deposits / cash-ins from the Ronin Network (RON) to your Coins.ph AXS/SLP Ronin wallet. There is also a minimum transfer amount of 10 SLP.
How to transfer your SLP or AXS directly from Ronin to Coins.ph on desktop:
Log in to your Coins.ph account via their website. Select your desired token - SLP or AXS.

Click the QR button located under the wallet summary tab on the left side of your screen.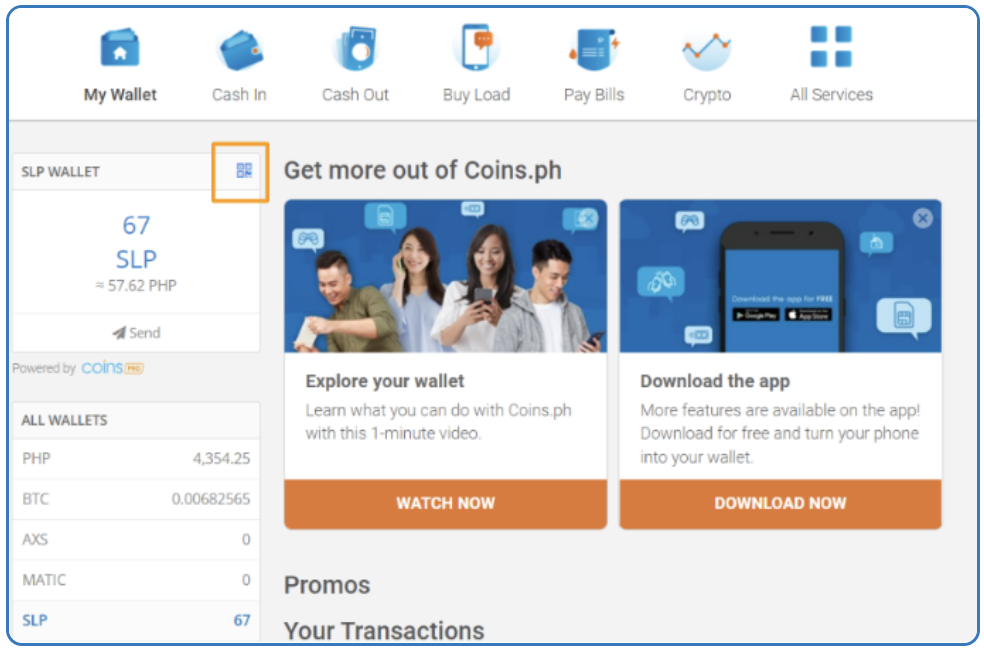 In the "Select Network" option, make sure to choose the Ronin Network. This network should be the default or preferred option for seamless integration with your Ronin wallet. Be cautious not to select a different network to prevent any potential permanent loss of assets. Once you have selected the Ronin Network, click "Show my address" to view your deposit address.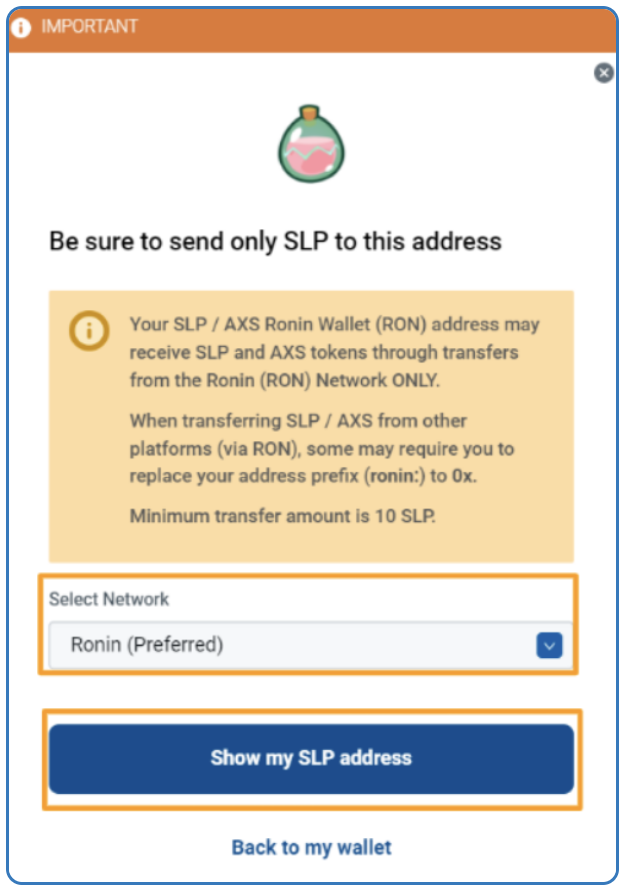 Your generated QR code will be displayed.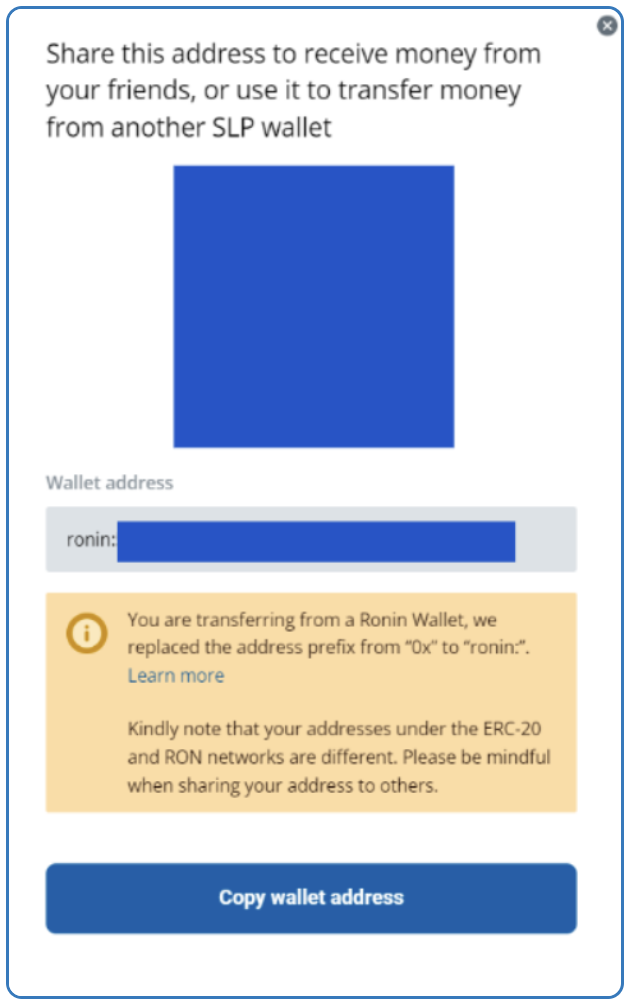 In the top right portion of your

Ronin mobile wallet app,

click the QR code icon and scan the QR code displayed on Coins.ph.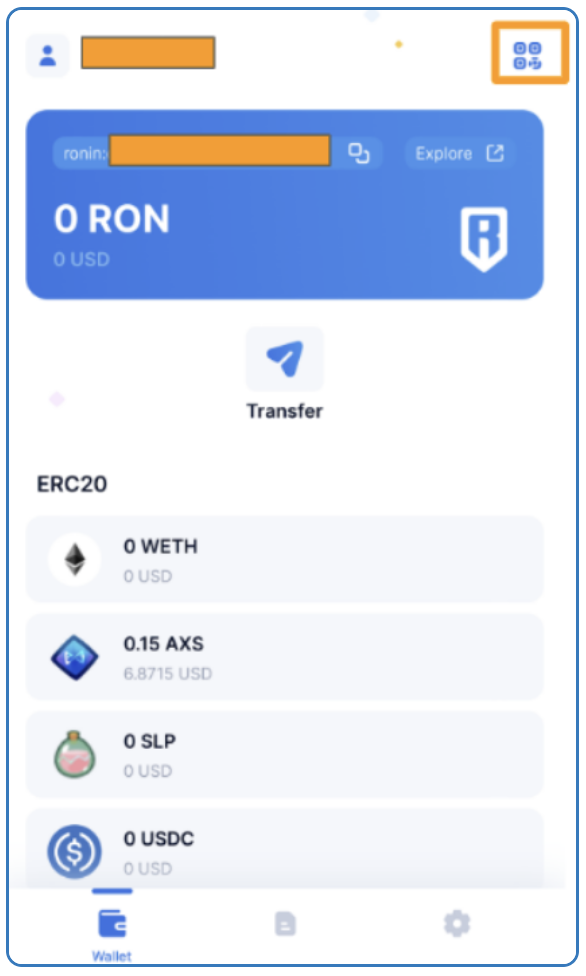 Input the desired token and amount you wish to transfer and click "Next".



Note:

Sending funds from your Ronin wallet to your ERC-20 address will result in the permanent loss of your assets.

Please ensure that you are using your

Ronin wallet address

for your SLP/AXS tokens.
Double-check the details of your transfer before confirming. You can view your transaction history via the "Activities" section of your Ronin wallet app. Ensure that you also confirm the status of your transaction by visiting the Ronin Block Explorer website.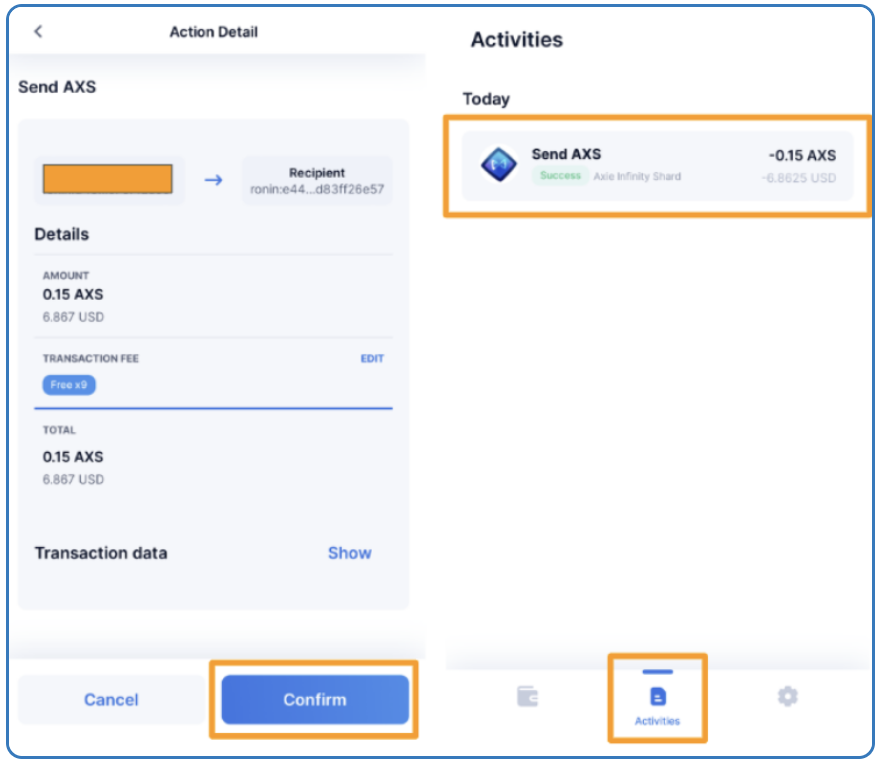 After the transfer has been successfully credited to your AXS/SLP wallet on Coins.ph, you can expect to receive a confirmation message. This confirmation message will be sent to the email address associated with your Coins.ph account and serves as a notification and verification that the transfer has been completed and the funds are now available in your AXS/SLP wallet on Coins.ph.