To deposit assets into your Ronin wallet, there are 4 methods available.
The first method involves using the Ronin Bridge to transfer funds from the Ethereum main network to your Ronin wallet.
The second method is by using a credit or debit card through Ramp, but please note that this option is only available in certain countries. Further details can be found below.
The third method involves using a 3rd-party exchange that supports the Ronin network. For example, if you have an account on Binance.com, you can use this method to deposit assets directly into your Ronin wallet.
The last one is using Binance Pay, you can use this method to deposit assets to your Ronin wallet directly from Binance using Ronin mobile.
Deposit via Ronin Bridge From Ethereum Network
To deposit assets into your Ronin wallet, you can transfer funds to your Metamask wallet and then use the Ronin Bridge. Follow these detailed steps:
Step 1: Transfer funds to your Metamask wallet.
Step 2: Go to the Ronin Bridge website and select the "Deposit" button.

Step 3: Fill in all required fields.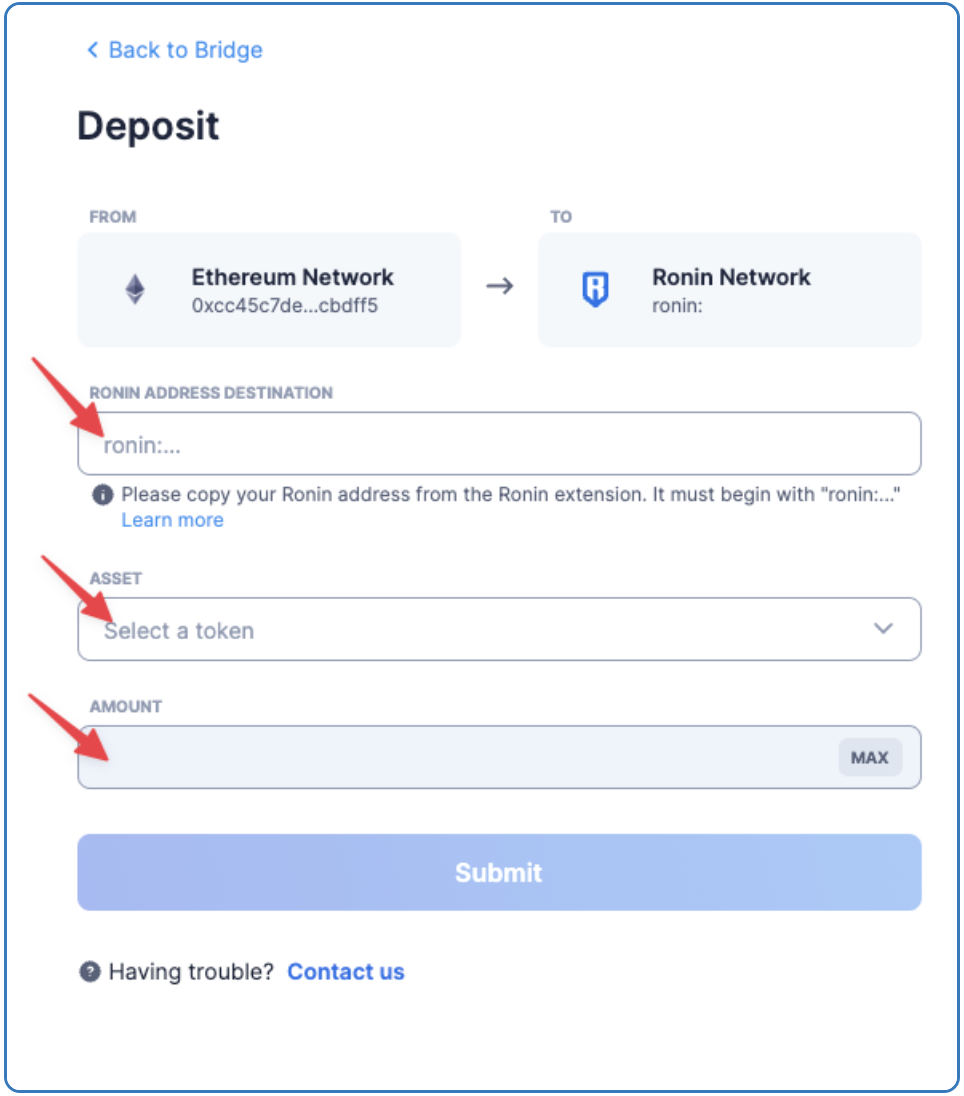 Step 4: Ensure that the Ronin address is accurate. If it's incorrect, the bridge will deposit funds to the wrong address, and Axie Infinity won't be able to recover your tokens for you.
Step 5: Click "Submit" and review the confirmation window, and then click "Confirm". The confirmation box is your last opportunity to confirm that the Ronin address and the amount you wish to deposit is correct.
Step 6: A Metamask popup will appear, prompting you to confirm the transaction. Once you confirm, the funds will be deposited to your Ronin wallet. The amount of time it takes for the funds to be deposited depends mainly on the gas price you set and the traffic on the network.
Step 7: Visit axie.live or Ethereum Gas Tracker | Etherscan to see the current gas prices.
Direct Deposit Using Ramp
Depending on where you live and the laws and regulations in that country, some users can deposit WETH, AXS, SLP and RON directly into their Ronin wallet using Ramp. Please visit Ronin Ramp Page and follow the steps to complete your purchase.
For persons living in the US, you can find a list of all US states that support the use of Ramp below: https://support.ramp.network/en/articles/473-what-us-states-do-you-support
Using 3rd Party Exchanges to Send Tokens Directly to Your Ronin Wallet
Several third-party exchanges have integrated the Ronin Network into their platforms. For instance, we will use Binance.com as an example, which has incorporated the Ronin Network into their platform. Binance.com allows users to send and receive SLP, AXS, and WETH directly to their Ronin wallets (under specific conditions).
Note: At the time of writing, this feature is only available on Binance.com and not its other variations, such as Binance.us.
The process is relatively straightforward. If you own SLP or AXS within your Binance spot wallet, you can click the "Withdraw" button and choose the asset you wish to withdraw, along with the RON Network.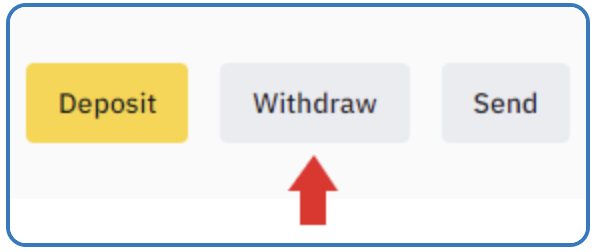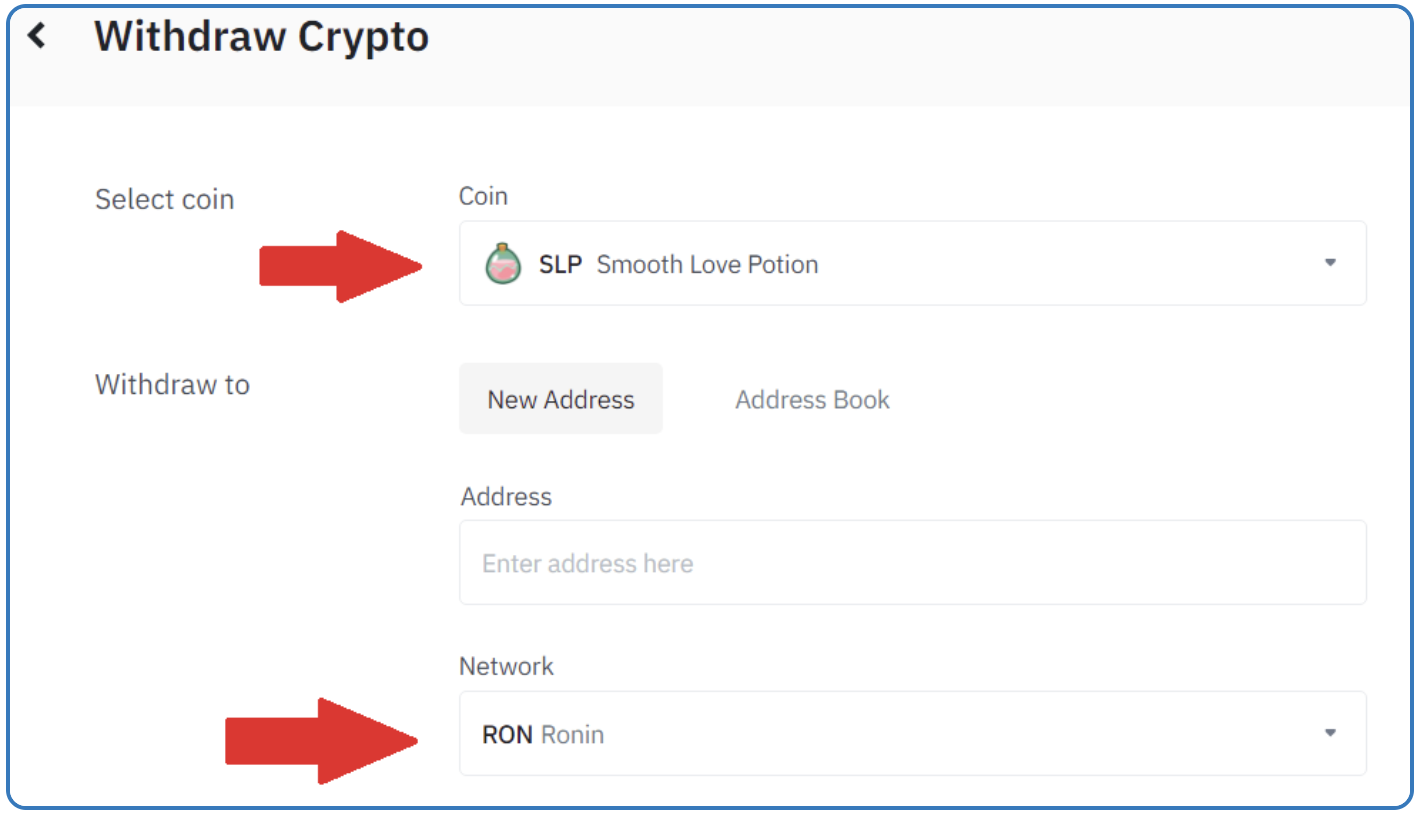 In the case of WETH, you can deposit WETH into Binance and hold it, send it to Ronin or convert it to ETH, but the opposite can't be done. Binance cannot wrap ETH into WETH within their platform.
Additionally, a few other exchanges, such as Tokocrypto, Coinex, Coins.ph, Gate.io, Mexc, Crypto.com, Bitget and OKX, also offer deposit and withdrawal options for Ronin with different methods or only some of the tokens. However, before attempting to deposit funds to Ronin, it is crucial to thoroughly research your exchange's policies and supported networks. This precautionary measure is necessary to avoid sending your funds to the wrong network, such as BSC or ERC20, and potentially losing them.
Using Binance Pay with your Ronin Mobile Wallet
You can now deposit AXS, SLP and USDC to your Ronin Wallet with Binance Pay.
In order to do so, please follow the next steps:

Step 1: Open your Ronin mobile wallet, then click "Receive"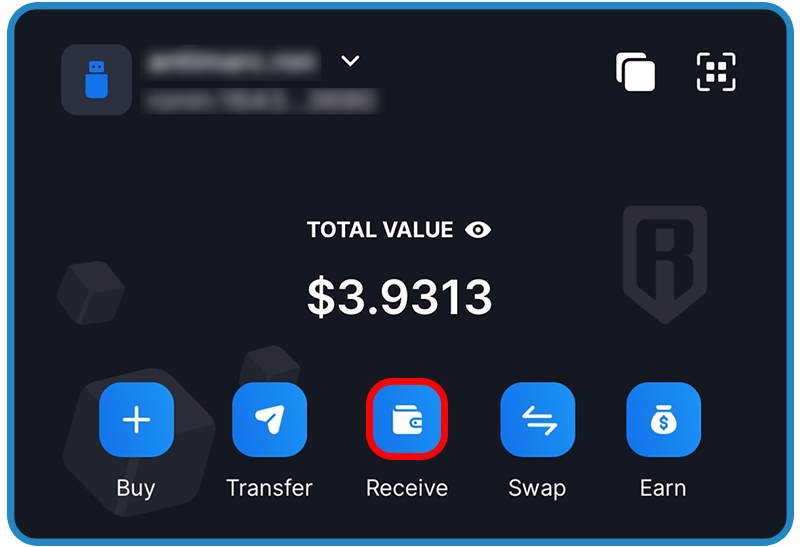 Step 2: At the bottom of the screen you will see "Deposit from Binance" click there.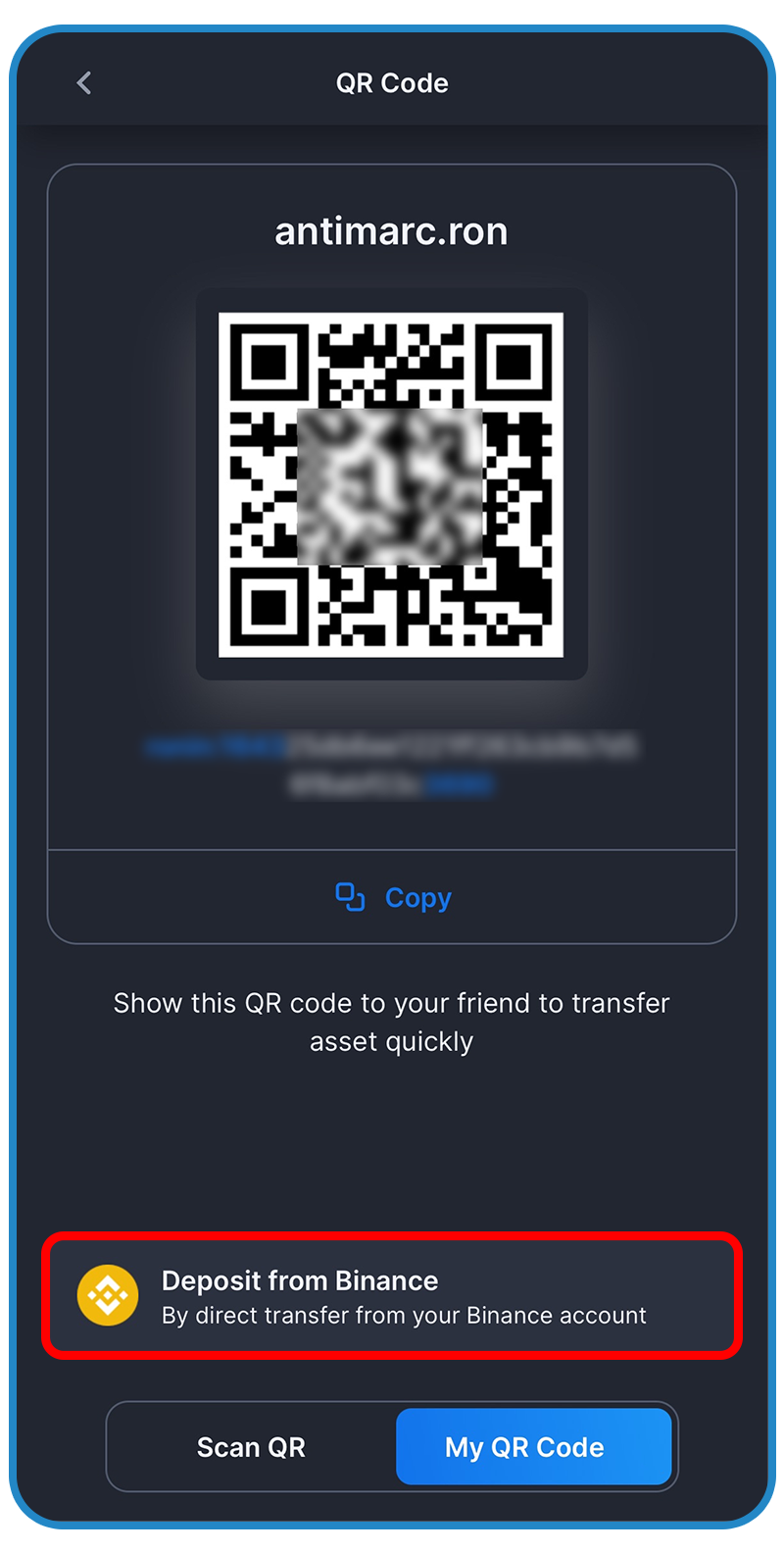 Step 3: Select the token you want to deposit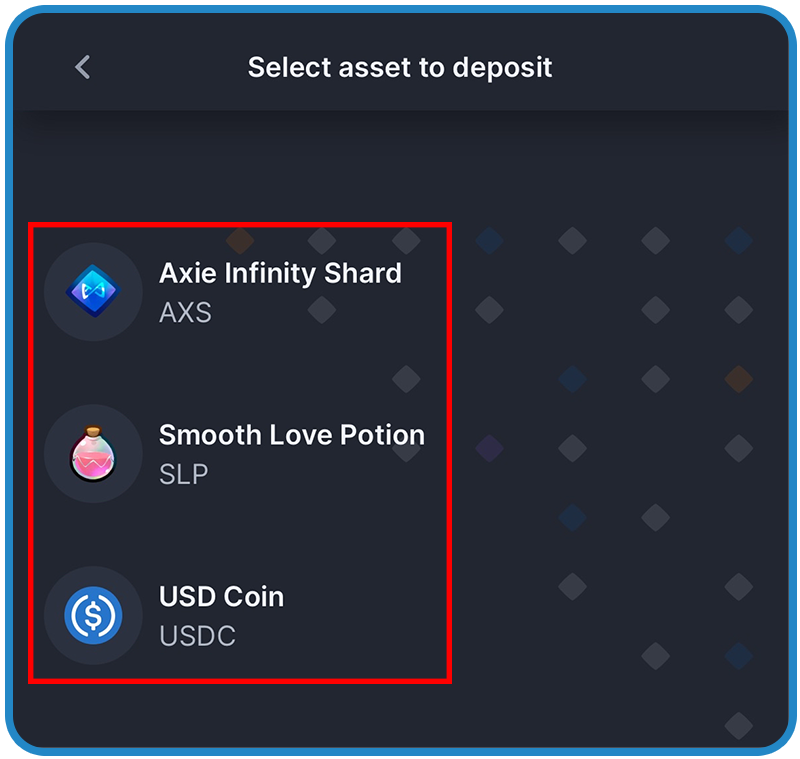 Step 4: This will trigger a pop-up from Binance. Enter the token amount you want to deposit to your Ronin wallet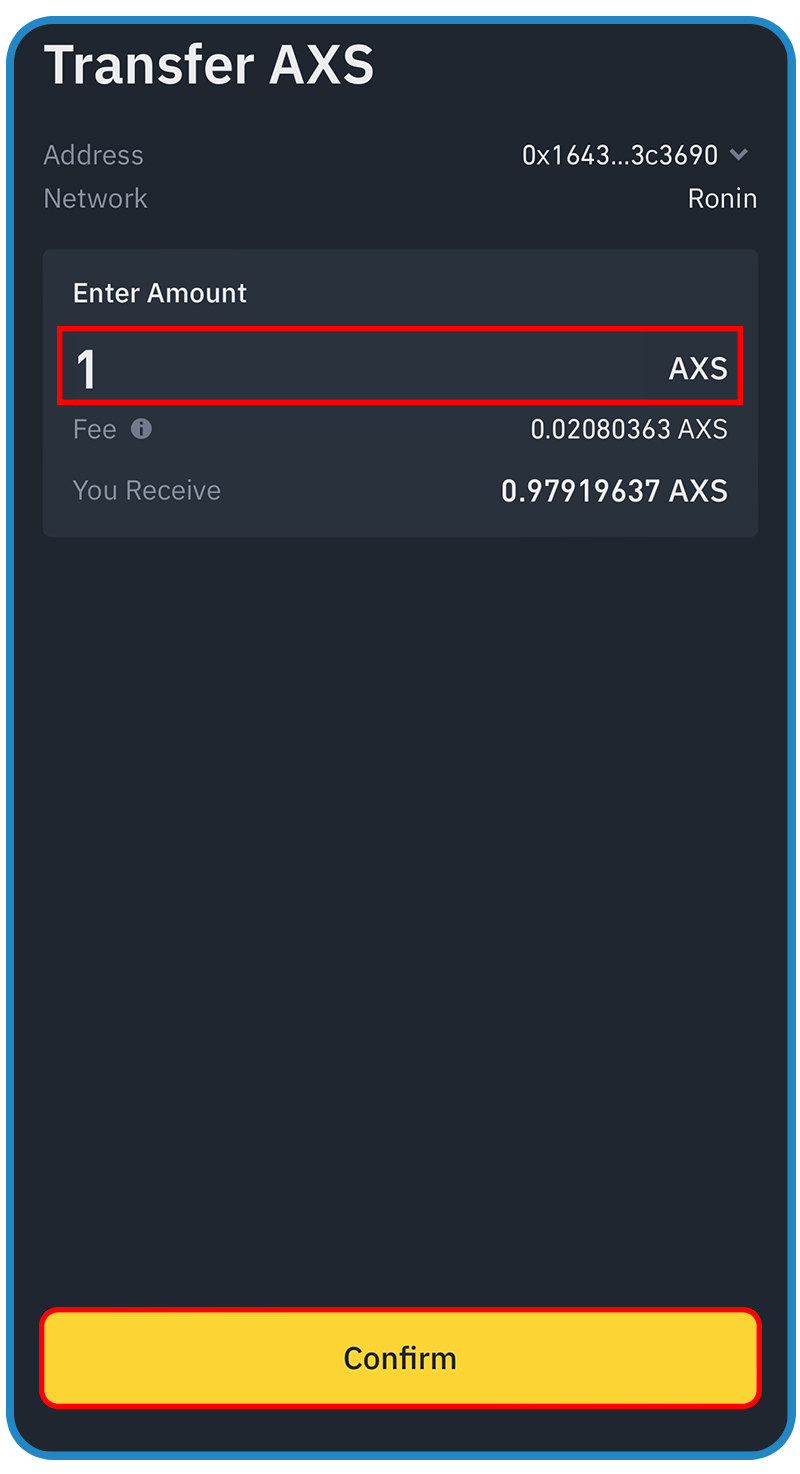 Step 5: Here you can choose which Binance wallet you want to take the assets from. It is defaulted in "Spot". Click Confirm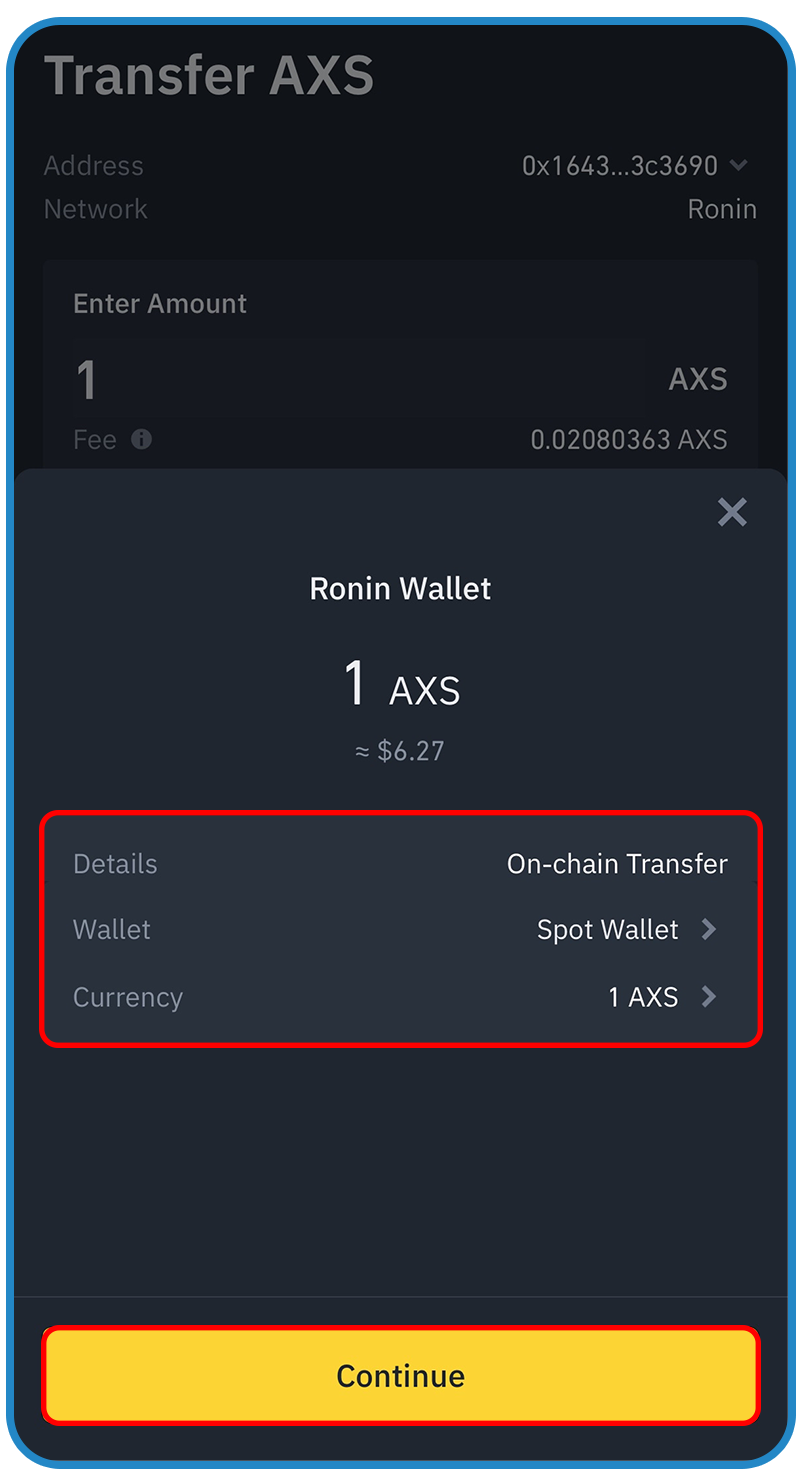 Step 6: You successfully deposit your tokens using Binance Pay. Click "Done" to go back to your Ronin Wallet. The tokens will be sent to your Ronin wallet shortly.