We understand that the process of setting up your Trezor Wallet can be challenging. This guide aims to offer assistance and ensure a smooth setup of your hardware wallet.
Downloading Trezor Suite
To utilize your Trezor device, it is necessary to have Trezor Suite installed on your device. You can obtain it by visiting the following link: https://suite.trezor.io/ and selecting the "Get desktop app" option. The website always offers the most up-to-date version of the software.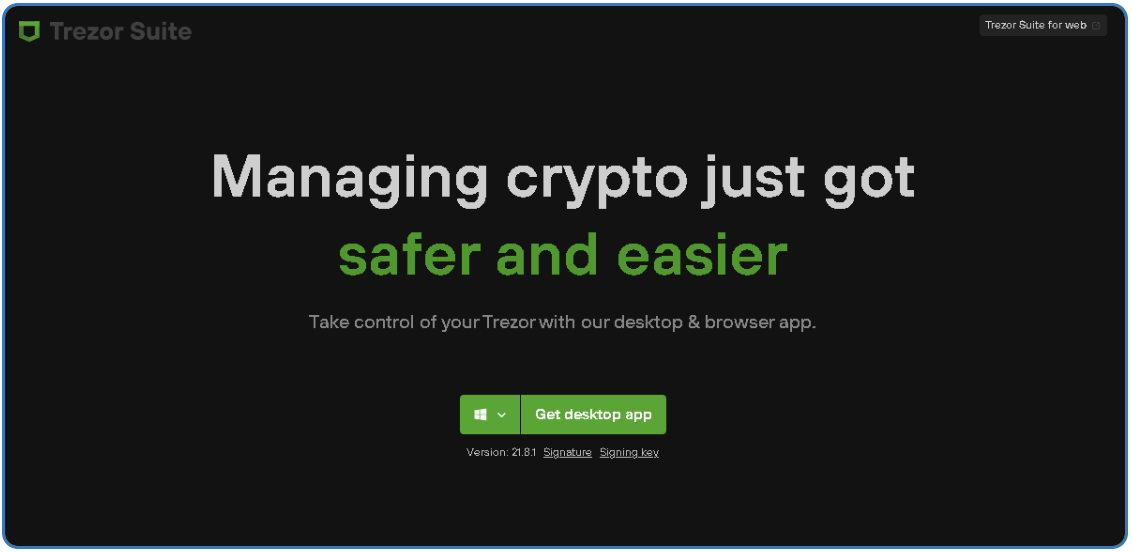 After the download is complete, the installer should have a similar appearance to the photo pictured below.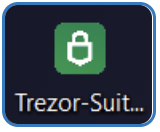 Note: If you don't have or see it, please check your 'Download' folder.
Installing Trezor Suite Software
Execute the installer and select the "Only for me" option when prompted.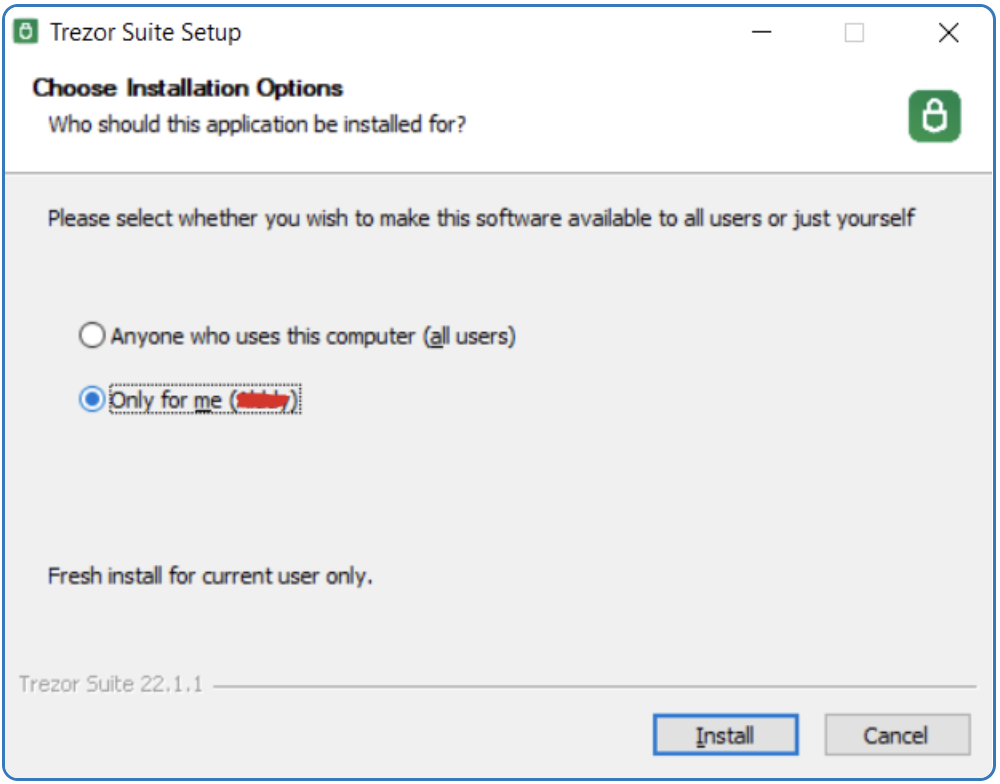 Wait for it to install and then click "Finish".
Setting up your Hardware Wallet
Open Trezor Suite and prepare the Trezor Wallet that you bought.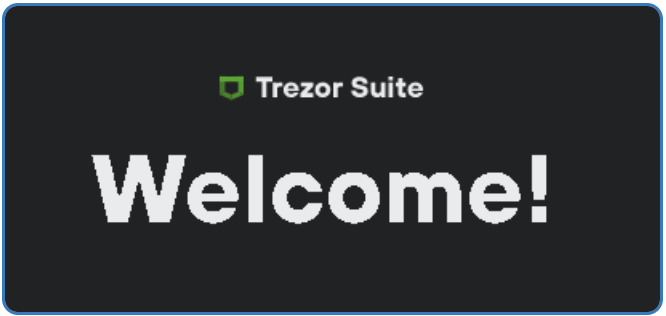 Connect your Trezor to your device and wait for it to recognize your device.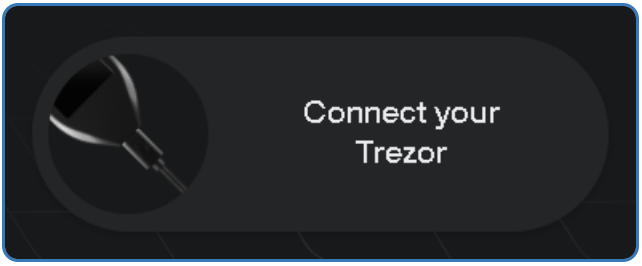 Note: If Trezor Suite doesn't detect your Trezor, try replugging it or check the connector.
Once your Trezor is successfully detected, you will be prompted to setup your Trezor. Click "Setup Trezor".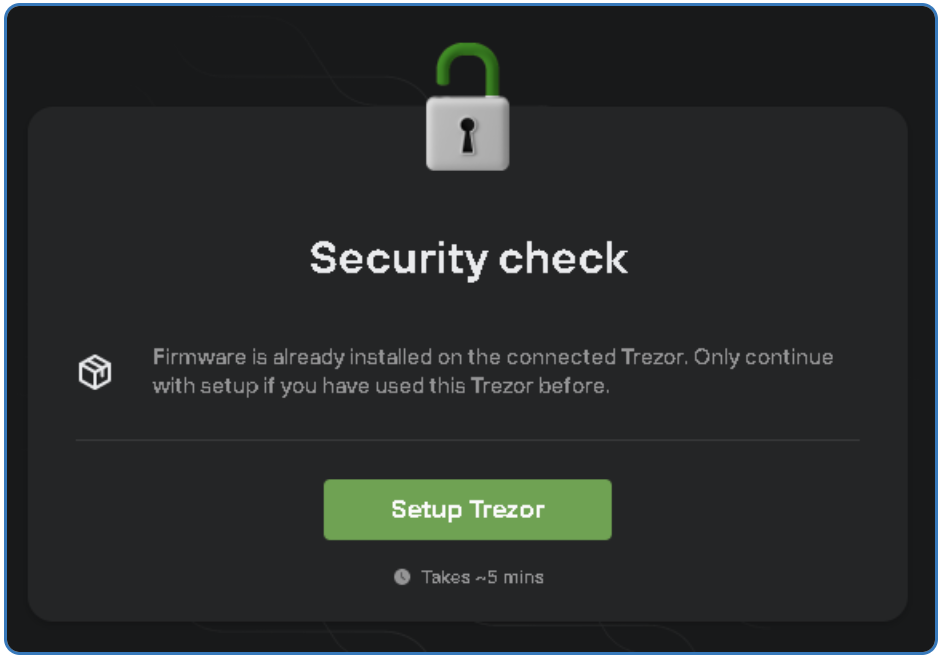 FIRMWARE
A new Trezor will not have firmware installed. You'll need to follow the steps provided by the application to install the latest firmware version.
WALLET
If you have never configured a Trezor before, select "Create new wallet" and then choose "Standard seed backup" and confirm it on your Trezor device.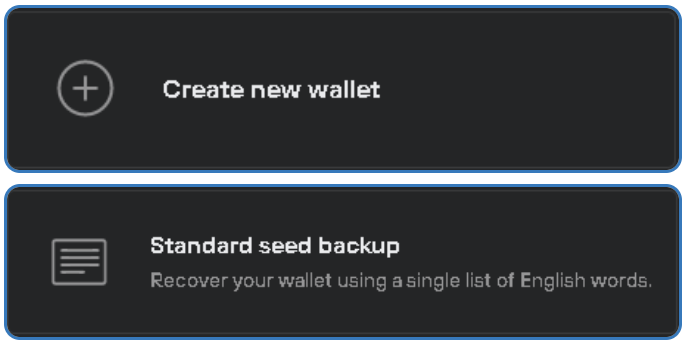 Once confirmed, a button labeled "Create backup" will appear. Ensure to read the instructions provided and then click "Begin backup".
Your Trezor device will display your seed phrase to you, one word at a time. Be sure to write it down on the paper provided by Trezor. The order of the words is important; losing your seed phrase or not knowing the correct order of the words may result in you losing your wallet and the assets inside. Keep in mind that there is no way to recover a lost seed phrase if you lose yours.
Note: Do not type your Trezor seed phrase anywhere. It is only meant to interact with your Trezor and Trezor Suite.
PIN (Optional)
After verifying that you have correctly recorded each and every word of your seed phrase in the exact order, you will encounter the "Continue to PIN" button. You can choose to either set a PIN or proceed without setting a PIN.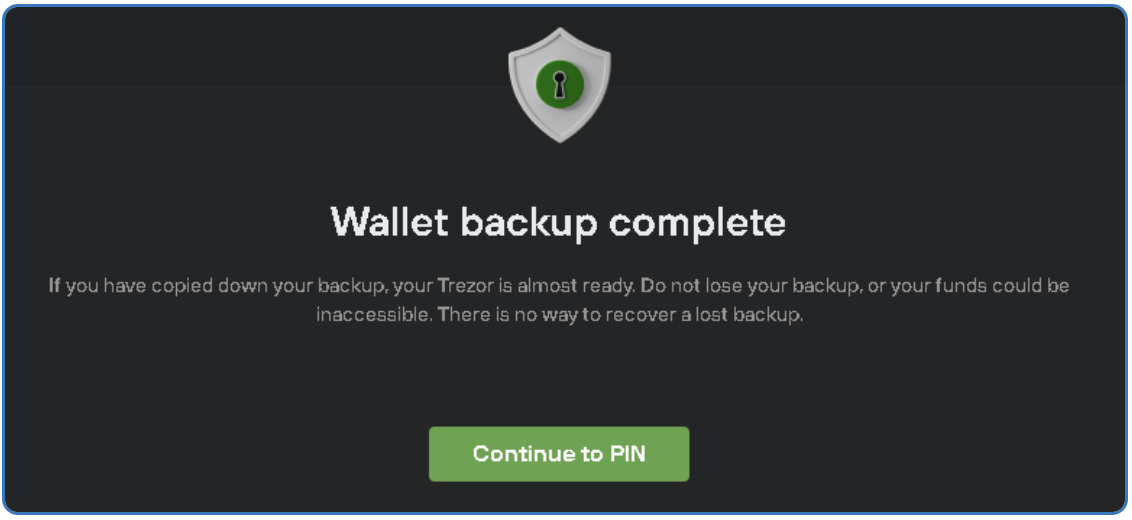 If you choose to set a PIN (recommended), you will need to confirm it on your Trezor device. Please refer to your Trezor device to determine the corresponding numbers for each box. You will be required to repeat the process to confirm your initial PIN entry.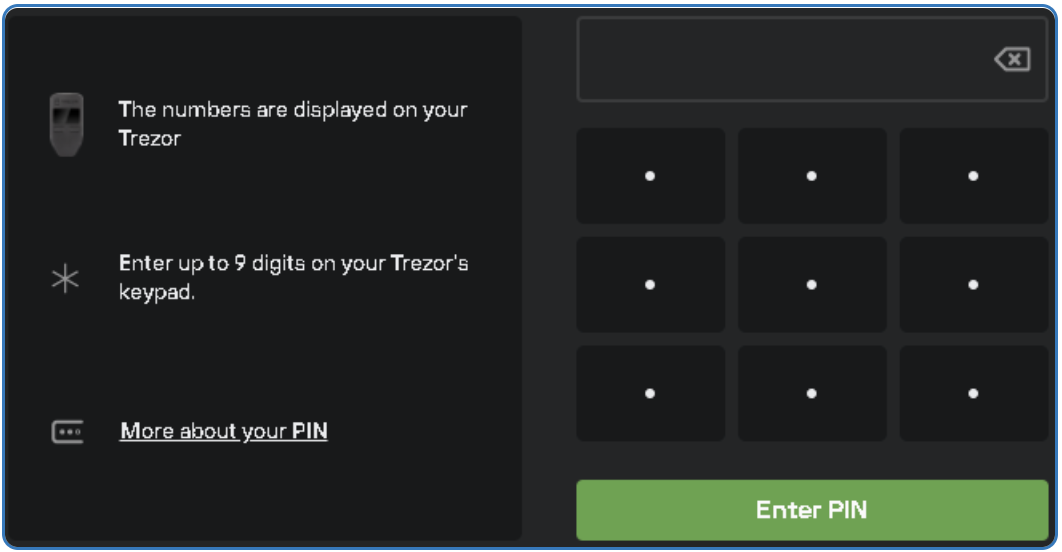 After successfully setting a PIN, you can proceed by pressing the "Continue" button.
Using Trezor Suite
If you see the image pictured below, it indicates that you have successfully completed the setup of your Trezor Wallet. Now, click "Access Suite" to access your wallet's address. Trezor Suite will prompt you to enter your PIN in order to gain access to it.

You will see an option to select the wallet type. We suggest choosing the "Standard wallet" option. However, if you are well-informed about the process and desire an additional level of security, you may opt for the "Hidden wallet" option.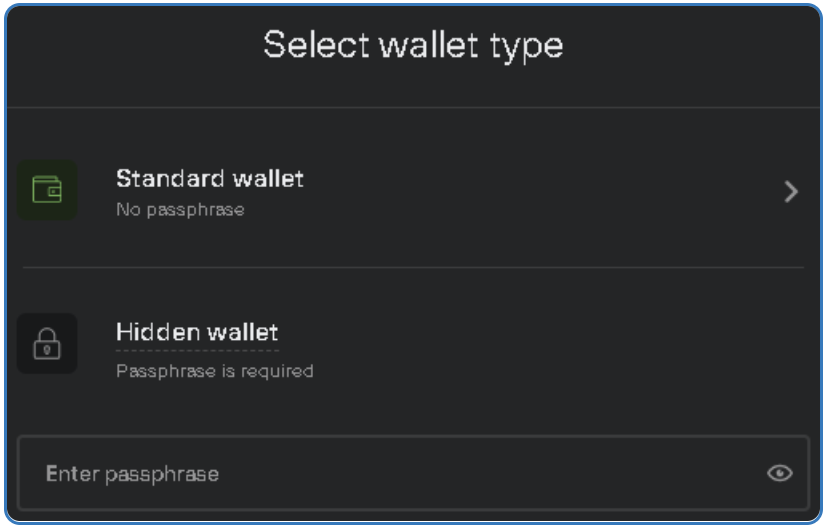 HIDDEN WALLET
(
For Advanced Users Only
)
The "Hidden wallet" feature is intended for advanced users and offers an enhanced level of security. It involves setting a passphrase that will generate a separate set of addresses, which can only be accessed by entering the exact same passphrase (case-sensitive). It is crucial to note that forgetting or losing the passphrase will result in the permanent loss of your assets/funds.
Connecting Trezor to your Ronin Wallet
To connect your Trezor device to your Ronin Wallet Extension follow these steps:
Step 1: Open your Ronin Wallet and connect your Trezor hardware wallet to your device. If you have a PIN configured, please enter it to unlock your wallet.

Step 2: Next, click the "Profile" icon (see image below).

Step 3: Select "Connect Hardware Wallet". A new tab should open.

Step 4: From the new tab, click "Connect Wallet". Doing this will open another tab.

Step 5: Click "+ Pair devices". Another tab will open. Click "Check for Devices".

Step 6: Wait for it to scan your Trezor device.
Step 7: Click "Allow once for this session" and then click "Export".

Note: The passphrase prompt below requires the same passphrase entered for a hidden wallet. If you did not configure a hidden wallet then leave the passphrase field blank and press the "Enter" button.

Step 8: This step varies depending on whether you have entered a passphrase or not. If you are using a Standard Wallet without a passphrase, simply click on "Enter". However, if you are using a hidden wallet with a passphrase, enter your passphrase in the input fields provided and then click "Enter".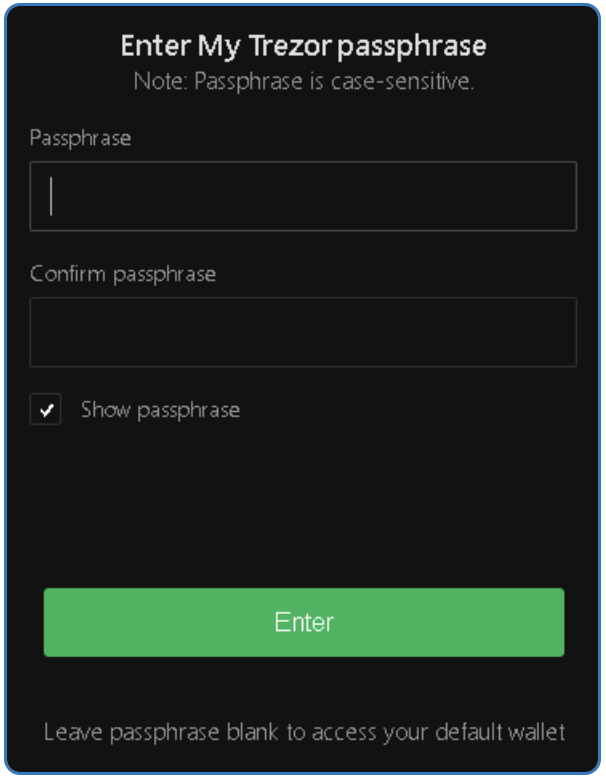 Step 9: After clicking the desired address from the list, select the option to import it into your Ronin Wallet. Proceed by pressing "Continue". The address will now appear in your list of addresses within the Ronin extension. If you are connecting a new Trezor device, you can select the first address from the list.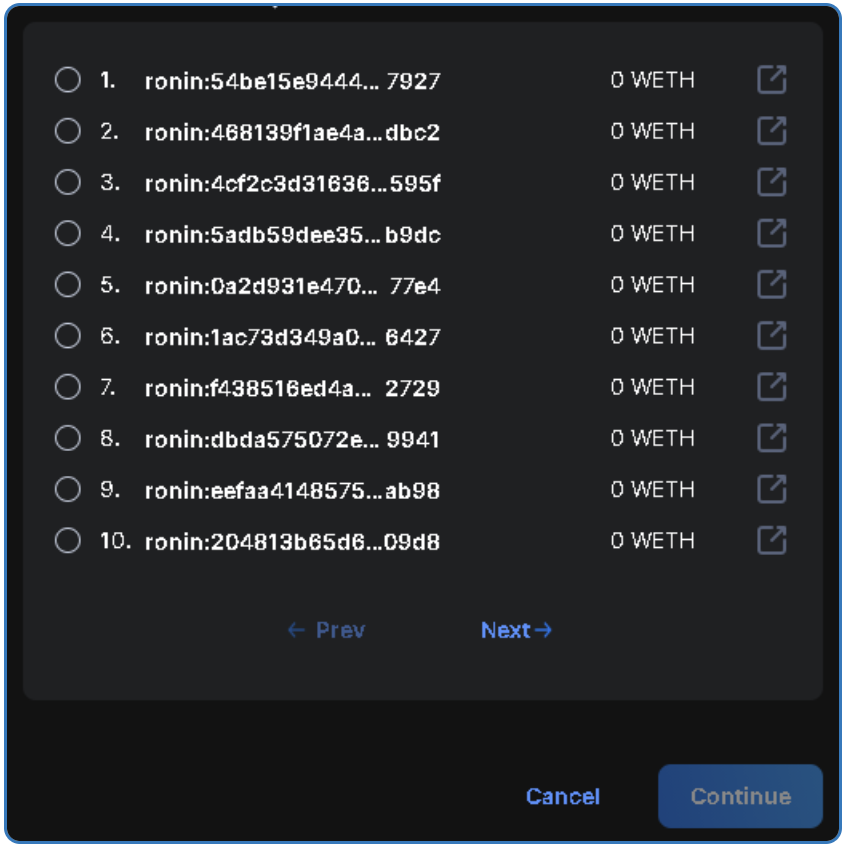 Note: With or without a passphrase, you'll still have 1000 wallet addresses.
Upon successful connection and importation of a wallet address from your Trezor device, you should see the following: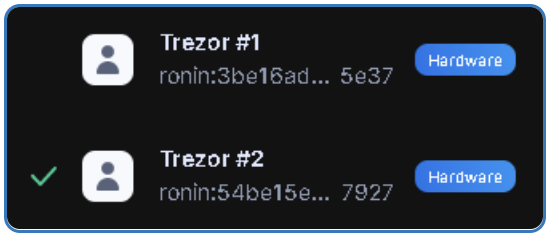 Common Issues Encountered
Please see Trezor's common issues and setup guide.