Please do not utilize the "send" function in your Ronin Wallet to transfer tokens to wallets outside the Ronin network. This feature is intended for transactions within the RON network solely. It is crucial to verify the network supported by the recipient wallet before initiating any transfer of tokens. Please exercise caution and diligence to avoid loss of your assets.
Most exchanges do NOT support the RON network yet!
Ronin to 3rd Party Exchanges that has RON network supported.
Prior to initiating any token transfer, ensure that the exchange you intend to send token to has the capability to receive funds via the RON network. As of now, Binance.com, Tokocrypto, Coinex, Gate.io, OKX, and Coins.ph are the only exchanges that have incorporated the RON network into their platform. If the transfer of AXS & SLP tokens is done correctly, these exchanges will allow for direct transfers. However, for all other exchanges and tokens, such as USDC, funds must first be transferred to Metamask through the Ronin bridge before transferring to the exchange of your choice.


Ronin to Metamask
To transfer tokens from Ronin to the Ethereum Network, you must first utilize the Ronin Bridge to transfer funds to a Metamask wallet. To execute this transaction, you must ensure that there is sufficient ETH available in your Metamask wallet to cover gas fees to complete the transaction. You can access the Ronin Bridge through the following link: https://bridge.roninchain.com/withdraw.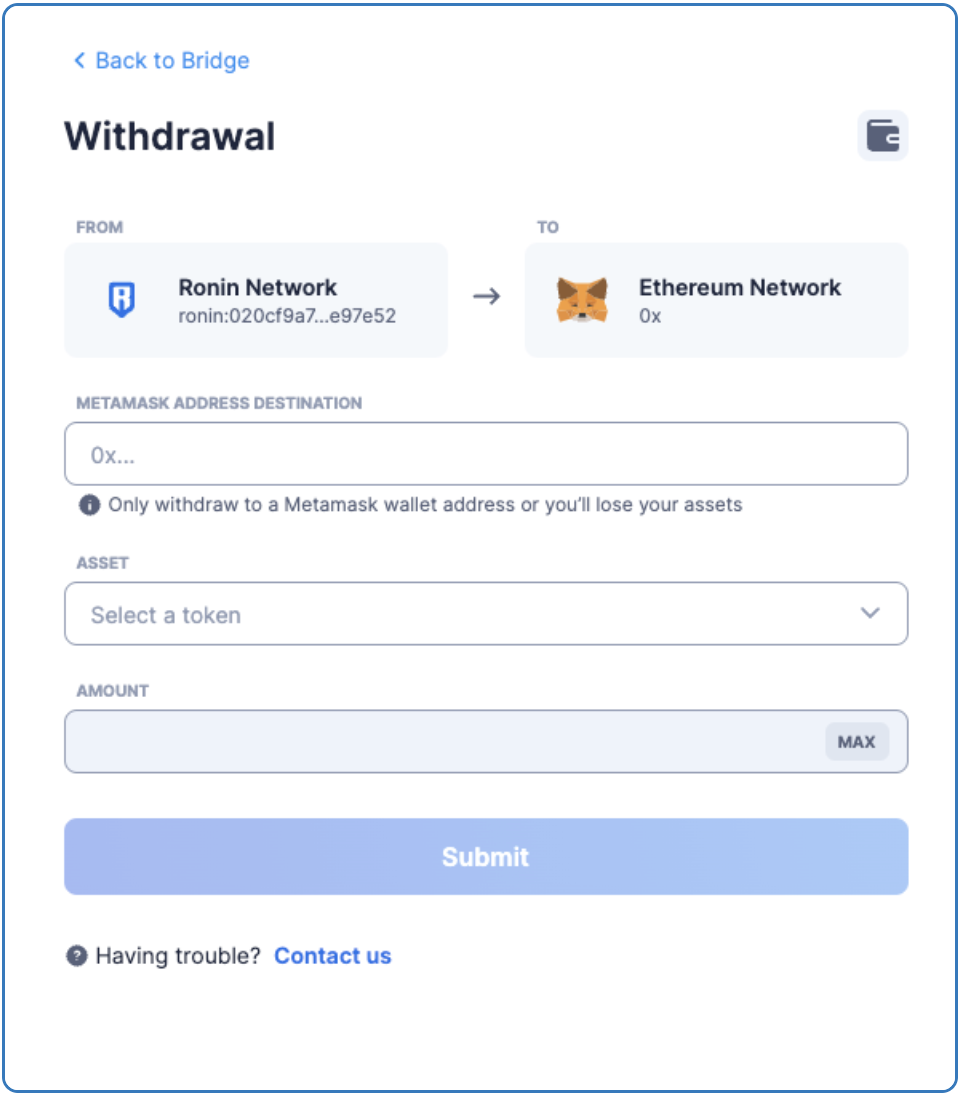 This procedure involves a 2-step process. First, you must confirm the withdrawal in your Ronin wallet. Doing this will send the funds to the bridge; at which point the transaction cannot be cancelled. Once your tokens are transferred to the Ronin Bridge, you'll need to sign a transaction in Metamask to send the funds from the bridge to your Metamask Wallet.
Ensure that the information entered in the text fields is accurate. Verify that the recipient Metamask address is correct and refrain from entering the Axie Infinity Bridge Contract as the receiver. Once funds have been transferred to our smart contract, retrieval is impossible.
The Bridge will not work for other exchange wallets such as Coins.ph, Coinbase, CoinEx, KuCoin, and many others. If you withdraw to an address that is not a Metamask address, your funds will be stuck on the bridge. These funds will be lost and Sky Mavis won't be able to retrieve your tokens for you.
Cancel Pending Withdrawals
You cannot cancel withdrawals once they are confirmed in your Ronin Wallet. Ensure that you double-check the amount and the address you're sending your assets/tokens to. This information cannot be modified after you have submitted the transaction in Ronin.